"The new way to sell is not to sell at all." ~ Lon Safko
The way you grow your business has changed. According to Pew Research, Americans are incorporating a plethora of digital tools and platforms into their purchasing process and buying habits. Roughly eight in ten Americans now shop online.
Having a robust digital imprint is now essential. Yet understanding this complex marketing landscape is a daunting task. Reputation management, content marketing, influencer marketing, AdWords, Facebook, SEM and SEO, email marketing, link building —- wait STOP!!!  Just tell me how does my company rise above the crowd and get noticed!
iSushman Consulting Group will take the "complex" out of complexity and make it simple for you. We bring over forty years of information technology and marketing experience from Fortune 500 companies to the table in order to help you develop your successful digital and marketing strategy. We want to help you grow your business through strategic social media and Internet marketing.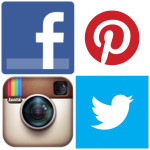 What We Do
Learn more about our services:
Social Media Consulting and Management
Web Site Design
Internet Marketing and Advertising