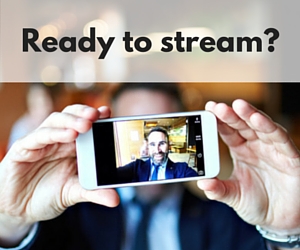 Tectonic shifts in the information landscape are transforming the way we consume media, in case you have been on a long trip to Katmandu recently.  Amazon is making movies and Facebook is getting into news.  People are watching movies on their phone and when High Dynamic Range (HDR) technology comes to Smartphones, offering a comparable image quality to your TV, the stampede to consume media on our phones will only pick up speed.
Without a doubt, the biggest IT trend of 2017 is the increase of video use and views on social media.  75% of posts on Facebook are video views and the use of Facebook Live, a feature made available by Facebook in 2015, has exploded.  24 hours after the recent Manchester bombing in the UK, Ariana Grande's "One Love Manchester" benefit concert garnered 76 million views on Facebook.  To repeat, that's 76 million.  AND businesses and individuals have access to the exact same technology as Ariana.  Facebook live allows you to broadcast live to an audience AND interact at the same time!  14% of all media consumption now takes place on Facebook!  A very powerful tool.
Your friends may have already tried out an amateur live monologue at the beach or while driving in their car, but chuckling aside, the vast improvement of Smartphone video quality has placed a very powerful marketing tool right in your lap.  Streaming video provides you the ability share and connect with your customer in real time.   You can ask questions and get answers right away through the "Comments" feature.
Several successful campaigns using this new channel include the zany, goofball scheme that Buzzfeed cooked up in 2016.  Two Buzzfeed employees dressed in white hazmat suits wrapped rubber bands around their victim, a watermelon.  After 45 minutes the watermelon burst to an audience that had climbed to 807,000 live viewers.  Dunkin Donuts tried the "behind-the-scenes" approach by providing a sneak peak of its test kitchen which also generated interest.  Certainly, with the success of these campaigns, well, anything goes!
Welcome to show biz!
So here's a couple of tips to keep in mind when planning to go Live on Facebook
Use your new medium wisely and smartly.  What kind of burning unanswered question or fascinating topic can your address with your audience?  Behind the scenes is definitely one approach – a vet tech tour of a major operation,  or a tour of how you make your product..
Promote beforehand – through a Facebook or other ad – using a catchy phrase to entice.  You want to invite via email or Facebook events.  After all, you don't want to plan a party and not invite the guests.
Sketch out a rough outline first.
Invigorate your audience.  Captivate.  Entice.
Provide a clear welcome section that outlines exactly what the audience member will get out of the streaming video.
The recommendation is that the video be more than 10 minutes and less than 25.
Be yourself.  Social media is about authenticity and intimacy with your customer and breaking down the divide between the two.
With a little practice, you will be on your way to producing irresistible content for your irresistible business!   The hugest trend here, is businesses small and large, people, children and perhaps even the family dog are producers of media.